arrow_drop_down arrow_drop_up
Roof window plastic | 66x118 cm (660x1180 mm) | white with grey cladding | SKYLIGHT
IN STOCK - at the supplier! &nbsp10 ks
Square profile with foamed chambers. Safety tempered glass Ug=1,1 W/m2K.
Micro-ventilation, patented fitting system. Good thermal and acoustic insulation.
Aluminium cladding with polyester colour coating.
Suitable for roofs with a pitch of 15º - 75º.
ATTENTION: Each roof window must be accompanied by a flashing!
White plastic roof window 66 x 118 cm (660 x 1180 mm) with GREY flashing, SKYLIGHT

SKYLIGHT plastic roof windows are already an established brand on the roof window market, They are characterized by the revolutionary use of plastic multi-chamber profiles filled with insulating foam to improve thermal insulation properties.

The main advantages of SKYLIGHT roof windows are:
- made from the highest quality lead-free profiles
- the system is characterized by a long service life with very little maintenance
- thanks to the steel reinforcement (galvanized steel 1 - 2mm), sufficient rigidity and stability can be expected
- perfect, multi-stage sealing system ensures high leakage resistance and is resistant to UV radiation and temperature changes
- the roof windows are also suitable for areas with increased humidity
- the windows are fitted with safety tempered glass, which is resistant to breakage, for example, in case of bad weather (hail)
- the handle is located in the lower part of the window with the possibility of micro-ventilation
- the window cladding is made of aluminium, which has a polyester finish
- the window fitting - the swinging mechanism is located at 2/3 of the window height, which means a higher passage height
- the roof windows can be used for roofs with a slope of 15 - 75 degrees

ATTENTION: Each roof window must be ordered with a flashing!


TRIM FOR ROOF WINDOW 66X118 CM, GREY FOR PROFILED ROOFING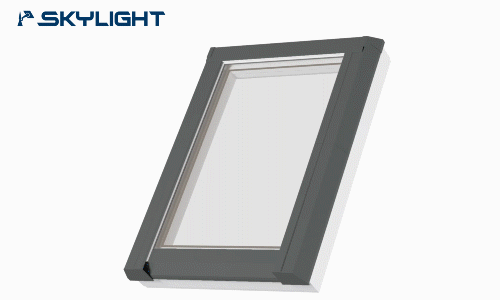 ---
Glass dimension

460 x 980mm

Material

Plastic

Colour

White